One of the unexpected byproducts of the COVID-19 pandemic is the realization that a substantial part of our professional output can be conducted from our own homes. This was once viewed as impossible for a myriad of reasons including fostering employee creativity, maintaining a professional image, and preserving productivity. In 2020 all industries were forced to adapt quickly to the new norms of remote work and for many employers, feedback on the overall experience is positive. This response leads us to question whether work will return to its previous structure post-COVID-19 or if remote work and virtual conferences are features to be continued into the future. There certainly are many advantages to promoting newer forms of employment, including flexibility for staff, removing the strains of commuting, and the multiple economic savings of not needing to maintain a large brick and mortar presence in expensive city centers. Of course, some businesses will not have the luxury of contemplating this scenario and many others will want to maintain some street presence, even if at a reduced scale. The challenge for these cases, both during and after the pandemic, is how to taper the transit of people if the traditional office has a reduced footprint. This coordination is enhanced by integrating custom interior maps to manage personnel within the office. Custom features built within the software, enable administrators to interact with the floor plans of any office building, optimizing the space, and ensuring a limited overlap of employees.
In this article we will look at the following topics:
Custom Interior Maps and Personnel Management

Custom Maps to Reserve Work Stations and Avoid Congestion

Contact Tracing within a Facility
Managing the Flow of Employees within a Building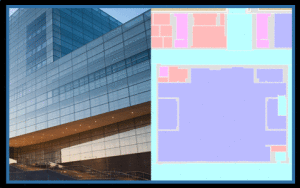 The pandemic has questioned many of our traditional theories of the workplace, chief among them the requirement for employees to be onsite in order to maintain productivity. The situation forced upon society by the COVID-19 pandemic compelled businesses to shift their models to an online workforce, relying heavily on technology to keep groups connected. In other circumstances, this would have triggered doubtful forecasts, but the results of the experiment have been largely successful. Of course there are always cases when certain tasks must be conducted onsite, and during the pandemic it is important to minimize health risks by controlling the number of people within the building at any given moment. Not only is this fundamental to allow for social distancing, but can provide a quick snapshot of who needs access to what sections of an office, including specific computers and meeting rooms. Custom Interior Maps offer the ability for administrators to manage this flow of people through a highly intuitive software. At a basic level, the map provides a clear footprint of the office space outlining the location of all work centers, meeting rooms and company devices such as printers. The objective is that any employee that needs to be onsite, must first register through the map software, in order to reserve access to a computer or specific meeting room. The access can be tiered based on any number of factors, such as position within the company or frequency of visits. The reservation of spaces can also be for a fixed amount of time, enabling others to enter the same space without overlapping. One of the most important features is that the software seamlessly ties into a company's existing database. The scripts that jQueryMaps provides are customized to work with your structure so changes to your backend architecture would not be required. 
Software Tools to Announce Onsite Visits
First looking at the mapping component, jQueryMaps guides clients on how to best structure the graphic files that makeup the core of the map. Ideally these files would be available in a vector format such as a DWG file, but if needed, our team can trace this for you from an existing image. Key to tying the software to your database, is the need to identify all interactive objects on the map and label them with a unique identifying code. This code would provide the link between the data and the visual layout of the building. Objects on the map can range from workstations, offices or even specific chairs. Another component of our software is the option to use markers to represent other categories of information within the office. This is especially useful for data that might change positioning frequently and would be better suited shown as icons that can be moved at the administrative level. In factories, this can be a specific tool or computer that may move along the assembly at any given time. Our company specializes in custom interior maps, and we would work closely with your team to prepare your graphic files for processing. The second component would be linking your staff to the map via a unique employee ID, which may presently exist or can be created alongside the project. With these two features in place, our team would collaborate with your company to create the interface that then enables staff to log into the software and request access to parts of the office building for a specified period of time. The software can be customized to show varying levels of detail. For example, some staff members may only be able to view that rooms are available or not at a given moment, while others could see who has reserved the space and potentially make additional changes. The goal would be to provide employees with an intuitive tool to reserve rooms and computers when visiting the office and limit unnecessary overlap of personnel at any given time. These tools are also considered as vital for a company that may want to streamline their brick and mortar presence in the future. With the right coordination, it is possible to have satellite employees visiting the office as necessary and reserving access in advance in order to carefully manage the flow of people in the workspace. This is crucial to safety during the pandemic, but constructive for efficiency even after the situation normalizes.
Using Custom Interior Maps to Improve Contact Tracing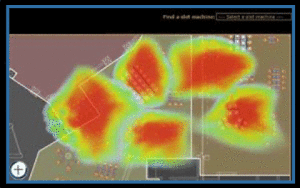 When the mapping software is up and running and used by all personnel visiting the office, the eventual need to conduct contact tracing becomes a much more straightforward task. The movement of individuals becomes easy to follow as the system will register their arrival and store the parts of the offices that were reserved by the person. If needed, the specific movement can be further traced using mobile data in order to create highly detailed heatmaps of the interior spaces that can be played back as historical data. This last step can accurately confirm when individuals have been in close contact and may want to seek medical care. The primary focus of the map would be to enable companies to work efficiently within a reduced office space by coordinating the movement of individuals through the reservation of work spaces, computers and meeting rooms. Not only does this save costs for companies looking to promote remote working for their employees, but it also provides a safety measure during the pandemic to limit and monitor the movement of staff within reduced office spaces. 
For more information regarding this solution or any other custom interior map, feel free to contact us for a free consultation. 
Share the post "Using Custom Interior Maps to Manage Reopening Facilities During COVID-19"