While some of the limelight on the 2020 Olympic and Paralympic games was eclipsed by concerns over the uptick in the spread of COVID-19, the events can still be viewed as a success in many respects. The organizational, security and logistical challenges around an event of this magnitude cannot be understated and the shifting difficulties of COVID-19 certainly increased the stakes of safety conducting such an international event. Given the technological acumen of the hosting country and the embracement of new methods of monitoring events, high-level technology was also at the forefront of the spectacle. This includes new tools to track events, transmit live statistics to spectators, and engage viewers from across the globe in the myriad of events that form part of the Olympics. For the focus of this article, we will discuss the interactive mapping tools that have been developed to assist in supporting these types of extensive events. Among the tools that can be applied are statistical maps to monitor the traffic of spectators around the Olympic venues, navigation maps, and building maps for interior spaces. A well-crafted product, can be used both internally by the hosting country and externally by the general public. Pivoting technology and interactive maps, to facilitate the movement of large groups of people, is an important step to successfully organizing any large-scale events.
In this article, we will look at the following topics: 
Area Location Maps

Custom Interior Building Maps
Interactive Map of events in a city and country and distribution lines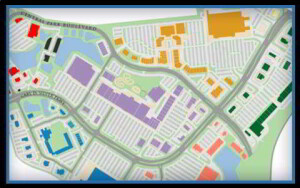 Coordinating a major event such as hosting an Olympic competition requires the careful oversight of a country's infrastructure. Hosting nations need to clarify that cities in which events will be held are capable of reliably and safely moving spectators to their destinations. This involves examining existing train, shuttle, and bus networks around a city and employing new technology to guarantee the punctuality of all services along defined routes. Accurate real-time information and interactive maps are important to achieving this goal, while additional layers of data can be added by deploying GPS data and immediate passenger statistics gathered at the point of entry. This system informs viewers of the capacity of all upcoming transportation services, along with their current occupancy, and an accurate estimate of their arrival time to any venue. Interactive maps give a scaled-back sense of the location of major events distributed throughout an area with the ability to explore individual arenas within a city.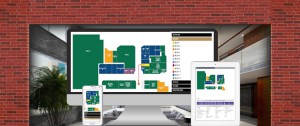 As we will discuss further in the article, arenas can be expanded into building maps, showing the interior details of a venue. With any project, a robust system of filters could be incorporated to select locations based on dates and specific competitions, graying out results that are not pertinent and highlighting all matches on the map. Multi-layered pop-up boxes with important details about a location, including video feeds, images, real-time data, and other interactive content can be embedded within the project and called for any location. An interactive map with the functionality to transition seamlessly from a country view to an individual building map is advantageous in coordinating transportation between cities in a country and between locations within a city.
Custom Building Maps and Interior Venues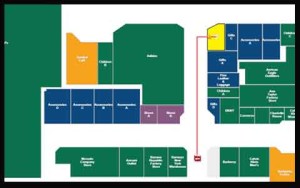 Projects that require a certain level of granularity can combine jQueryMaps with OpenStreetMap to show street-level detail within a city and in the vicinity of a venue or Olympic village. Any features that are not shown at the street level, such as temporary structures, can be added as selectable objects positioned as overlays on the map. This would include highlighting arenas within an Olympic village and activating these locations based on the results of a filter search. This enables users to query for specific events or activities on a certain day and the result of the search would quickly display as activated venues on a city map. Combining maps with custom filters can produce powerful results that are tailored to the users navigating within the software. This can also include inserting a visitor ID and being provided an overview of all events included within the ticket over the span of several days. The itinerary can furthermore display below the map in a tabular form that is easily exported to a PDF or print format. When producing building maps, it is important that the layout is true to the real distribution of rooms and locations within the facility. This is accomplished by building maps according to true architectural, DWG files. Clients can adapt the DWG files internally and subsequently share them with jQueryMaps to be incorporated into the project.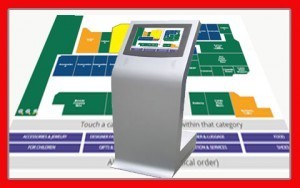 One of the highlights of any interior map project is the inclusion of routing capabilities that direct users from a current location or specified point on the map to any destination. While most of the discussion has been focused on applications accessed through mobile devices, it is also common to integrate interactive building maps, as part of a fixed kiosk with a building. This point of information is useful to visitors given the scale of the screen, but it mirrors the information displayed through mobile devices. In the example mentioned above where the itinerary of a visitor is called based on their past ID, the navigation tool, both within the application or on a kiosk screen can direct them from various points within the building to their specific seats. The map views and data shown on the map can always be printed or easily shared with friends and family at the click of a mouse. The combination of multi-layered maps, spanning views of an entire Country to the interior of a specific building is a highly powerful tool to which multiple sources of data can be connected. Feel free to contact us at jQueryMaps for any questions regarding custom campus or building maps.