As connectivity more prevalent across varying sectors of our economy, tools to visualize and interact with these connections are increasingly important. Taking this requirement and merging it with highly adaptive interior mapping software is a compelling solution for any commercial real-estate owners or property management companies. jQueryMaps provides a full-circle solution that works with clients to get their ideas off the ground and supports them throughout the launch of the project. Our highly sophisticated, yet customizable software provides the framework for taking 2D imagery of any interior space or exterior campus and converting it into interactive layered maps. 

In this article, we will look at the following topics.
Designing your custom map project

Integrating your data and applying filters to a map

Customization and applying changes to the project
Starting your Project Custom Map Project Using Existing CAD images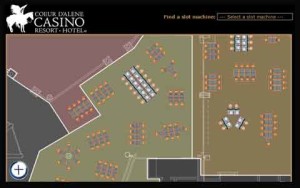 In most circumstances, maps are constructed from existing vector images of interior spaces and often these images are retrieved from CAD software. If the original CAD files are not available, clients have also relied on our experienced cartography team to produce the files from any high-resolution image, including sky images of a campus or even scanned paper documents. Our team then imports your images, or traces the objects as required, to produce the initial skeleton of the map. We would then work with your company to determine what additional layers should be added and a color scheme that fits your corporate image. One example would be a campus map being displayed as the initial view with the outline of all the buildings clearly marked as active objects on the map. The selection of any one of these objects can either zoom-in on the targeted location or open up an information box with data specific to the building. Most projects benefit from showing multiple layers, especially when the project is data-rich and information is structured by location. With business campuses, it is common practice to extend the interior outlines of a building once a location is selected. If the software is providing office search results, the initial view can show the building containing the office and upon selection, the map would focus on the building and display a breakdown of all offices identifying the specific location in question. This result would show users not only where the office is located relative to the larger campus, but also the details of the floor and orientation within the building itself. 
Building Features to Enhance your Interior Mapping Software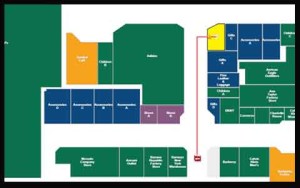 The focus of any mapping project will vary based on the industry and data used to drive the software. Many custom maps are created to have a dual purpose of serving as a public tool for navigation purposes in addition to internal analysis and maintenance. One clear example is evident in maps created for casinos, which can be offered to users through Kiosks in the facility or as part of a web-based tool. Many of these navigation maps are positioned at the entrance of a venue and displayed on touch screens to encourage users to make selections and interact with the software. In addition to the basic navigation, most of these maps include added features to improve the user experience, such as custom filters by type of attraction or keyword searches. These tools can be designed with a focus on mobile users to have larger buttons and intuitive scroll features. With a few clicks of a button, a user can pass from the lobby of a casino to a specific card table or entertainment attraction using specific features to identify only the options that they are most interested in. For example, when choosing card tables, the project can offer users a selection of filters by type of game, entry value and seating availability. Finally, the route from the kiosk to a selected object on the map would be marked with a navigation route on the screen, which can be emailed or texted to the visitor. This type of personalization enhances the overall value of the visit and experience at your facility. 
The second component of Interior Mapping Software can be exclusive for internal use and carefully safeguarded behind your existing firewall and security protection. Powerful analysis tools can be incorporated with your map to aid in monitoring visitor traffic to different parts of your facility. Our maps can work with third-party software to maximize the benefits of your building layout and help plan potential renovations based on historic information. This can provide important insights when planning the location of your next coffee shop or bank ATM, based on the past affects these features have in visitor traffic. Filters can also be applied to highlight objects based on specific criteria. For example, floor managers of a casino can use the visual nature of the map to filter tables based on revenue generated over a particular time period or volume of visitors to any slot machine. All of the results can be stored for later access or printed as high-resolution images to embed within internal reports. 
How to Adapt and Change your Interior Maps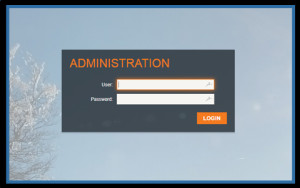 Working with jQueryMaps has the valuable benefit of partnering with a company that is highly specialized in producing custom mapping software. Our years of experience have granted us the know-how to plan and implement a solution that is specific to your business and flexible enough to be scalable and modified in the future. For periodic changes to the layout of a map, clients prefer to come back to us to have the updates integrated into the cartography. This process is quite simple and can typically be accomplished within a few business days. However, we understand that some projects involve constant shifting and require a more responsive solution. This can be the case with restaurants that often change their table layouts or casinos that shift the positioning of slot machines for special events. In these circumstances, we can provide a custom admin tool that would enable administrators to modify the default layout of their facility by dragging and dropping objects on particular axis points. New objects can be added or existing ones hidden for the new map iterations. Once changes are completed within the admin, the results would be saved with a new profile that can be later accessed in the future. The final step would be to update the live map with the new version through the simple click of a button. At any point, administrators could default back to a previous layout by selecting an earlier profile to activate for the project. These types of custom administrative solutions provide unparalleled independence for companies, within the framework of a trusted partnership with jQueryMaps. 
As described in this article, the interior mapping software solutions provided by jQueryMaps offer business and property managers with exciting options for modernizing the way they interact with visitors to their facilities. Cultivated interactive maps shown through interactive screens give users a practical tool while enhancing the larger image for the company. On the backend, powerful features can be built into any project to assist with analyzing business activity in order to make informed decisions for future changes. We welcome the chance to discuss this further through a free consultation. Contact us soon for any of your mapping needs.
Share the post "Make a Sure Bet with jQueryMaps Interior Mapping Software"