As the economy grows more confidently and the shadows of the recession of 2008 fall further behind us, casinos, like all other entertainment components of the economy, are eager to start moving their chips again. Casino construction is on the increase again and tourism to major destinations like Las Vegas is steadily surging. Combining this wave of optimism with an increase in vistor technological savviness, makes for a great platform on which to introduce an custom-built interactive casino map for all major venues. Sophisticated mapping software connected to real-data from a casino's databases offers a powerful tool for vistors and managers alike.
In this article we will look at the following topics:
Benefits of Using an Interactive Floorplan Map

Bells and Whistles of Custom Indoor Maps

Increase Revenue and Improve Management with Custom Maps
Reasons to Link Live Data to a Floorplan Map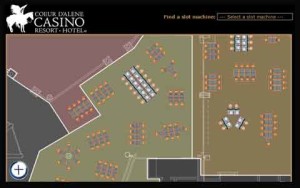 A high-resolution floorplan map becomes a very powerful tool when it is linked to a database or external data source. At this point, the map no longer provides just visual references, but it also projects shifting information in real-time to users. In an interactive casino map, there are limitless applications for a responsive and highly flexible floorplan that links to a centralized data source. The most basic use of the map would be to show the positioning of the different playing tables and machines in the casino in such a way that when these objects change (perhaps slot machines are moved or card tables shifted), the maps read the changes in the database and modify the positioning within the  software in real-time. Luck is an important factor, and when we feel a seat, table or dealer brings us any slight advantage, we want to see it out within the casino. To achieve this, numerous lookup tools can also be integrated with the software to search for any information or object shown on the floor plan including specific games, the location of dealers, largest payout tables etc. The dynamic maps are hosted on the casino's web servers and would pull information from a central location to ensure the accuracy of the map. Yet the map itself can be viewed any number of ways. Visitors would be able to access the map through an APP or directly in the casino's website and given the fact that all of the software is built in HTML5, the maps work perfectly across all phones, tablets, and browsers. At the same time, the same map can also be displayed within kiosks distributed around the casino and oriented relative to a specific location. The addition of kiosks, or even touch screen monitors, is a great asset to resolve a quick lookup or assist visitors not inclined to use their personal devices. Irrespective of how the map is viewed, the information is instantly available to users at a few clicks of a mouse, screen or handheld device.
Powerful Custom Components to any Indoor Map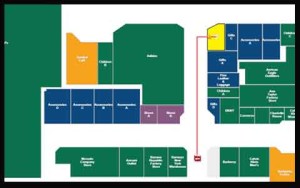 Aside from the standard map features, there are numerous custom tools that can be built into the software to make the map especially useful to visitors of the casino. The first component would be to include custom searches. These searches can be general or user specific, so that visitors must first provide a username, playing a number or other type of identifying the entry. Once completed, the map would be personalized to show "their" personalized layout, including amenities that would interest them, the location and availability of specific tables and games, along with alerts for ongoing events within the casino. At any point, any of these objects can be selected and the map would route the fastest route from the visitor to the location they would want to visit. See example. The second component is the option to include consumer content on the map. In addition to the standard floorplan layouts and casino information, coupons can be provided to users accessing the map. These coupons can provide an easy way for casinos to offer additional services to clients and promote specific games and events within the building. For example, a client accessing the map from a specific corner of the casino might be offered a 2 for 1 dinner special at a nearby restaurant. The coupon can be retrieved from the kiosk or device via email or text message and instantly available to visitors and include interior map routing features. Combining custom searches, personalized entry pages and the option to have promotional coupons make any interactive floorplan come to life for both visitors and management.
Combining Indoor Casino Maps with Insightful Management Tools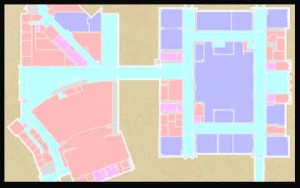 The application of an interactive casino map for internal management is a crucial aspect of the mapping software. The same map can display very different information depending on how the map is accessed and where it is located. For example, maps used to guide visitors located on the website of the casino, and on all kiosks and display screens, typically include general information to orient users and provide special offers. However the same casino map, when set up on an internal server or behind a protected page, can be configured to include more extensive information. In reality, the type of data displayed on the internal map is open to any possibilities according to the needs of casino management. Some ideas on the topic would be to offer users a visual tool that also works with filters.
Color Code Winnings by Calendar and Historical Data
Management can filter by a specific day, hour or date range to highlight all games on the casino floor and display the results of their winnings. Each table and machine would be assigned a color according to its specific statistics. For example, a slot machine that paid out $500.00 on a particular night would be displayed in a more vivid red hue than a machine that just paid out $300.00 The same can be extended to card tables, roulette or any other games on the casino floor.
Manage Staff on the Casino Map
Another useful tool is to immediately locate staff on the casino floor. As employees would be assigned to a particular game or section of the casino in a select time period, this information can be transmitted to the map in real-time from the system database. A simple name lookup can be displayed or a search by type of activity can show results for all employees at a particular time.
Setting Alerts for the Dynamic Map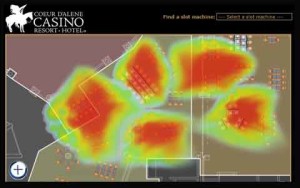 Any type of alert can be set within the system to color code areas of the casino, display pop-ups, email staff or even trigger external events through the interactive map software. This could be useful to showcases when a particular table has paid out over an established amount in a single period of time or to notify management when staff may have exceeded their time on a single table. Of course, it is also possible to use the map as an interface to select icons that would call cameras on the casino floor for confirmation of exactly what is occurring at any moment. Camera icons plotted on the map can be selected to display the real-time video embedded within the same pop-up box. This is a great feature to access all cameras and interface with activities happening on the casino floor.
As all maps are custom developed per our clients' exact needs, we would enjoy hearing from you to discuss what requirements you have for your project. We can walk through some of the development that has been integrated for similar projects and also review options to build new components for your company. Contact us to set up a free consultation and learn more about our indoor casino mapping capabilities.