First responders and hospital personnel are among the most exposed workers during the COVID-19 pandemic, however, their role is crucial to society's well-being and the country's slow progression to normalcy. It is in large part thanks to the monumental effort given by these individuals that States have been able to endure the first wave of contagion without a collapse of the healthcare system, saving thousands of lives while flattening the contagion curve of the virus. In large part, the austerity of the initial social distancing measures was designed to spare hospitals the brunt of large communities getting sick at once, thereby, spacing admissions, so that doctors and nurses could best attend to incoming patients. The complicated decisions to point patients to hospitals with adequate space and resources are based on complex metrics. Analyzed at a state or national level, these decisions become clearer when combined with interactive US Maps that are powered by real-time data.
In this article, we will look at the following topics
Hospital Data Used with Interactive US Maps

Coupling Technology with Interactive Maps

Hospital Floor plans 
Types of Information Guiding Hospital Decisions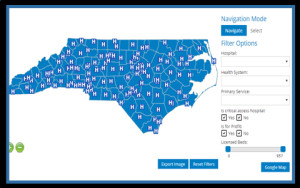 Hospital administrators work with personnel on the front lines to keep tabs on specific metrics used to determine the ability of a facility to admit new patients. Among these items is the capacity of beds within sections of the hospital assigned to treating COVID-19 admissions. Here it is crucial for information of incoming and dismissed patients to be maintained accurately, as proper spacing preserves the safety and well-being of hospital workers. Another key factor when evaluating incoming patients is the availability of PPE within a facility. In the early stages of the pandemic in the US, the scarcity of this lifesaving equipment was starkly apparent, however, communities have since done better to acquire supplies. New stockpiles must be monitored in real-time and balanced with the needs of incoming patients and workers in order to guarantee the safety of the hospital. By creating a custom solution that gathers data metrics from numerous hospitals, decision-makers at the State level can direct incoming patients to the appropriate and best-equipped facilities. The data can be shown on an interactive US Map with specific criteria to show possible trouble points at a glance of the screen. The implementation of filters can provide additional insights to direct resources to the most necessary locations, coordinating these supplies based on the real-time patient data. 
Interactive US Maps Displaying Real-Time Data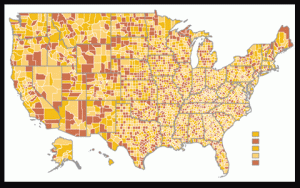 Part of the core policy when determining how States should open their economies is the ability for communities to successfully test potential carriers and swiftly enact contact tracing according to these results. By tracking the movements of a person and people they have encountered, professionals hope to stymie any new flareups of COVID-19 before they become unmanageable. Here technology can play a key role in assisting contact tracers. After any patient tests positive, it is possible to use cell phone mobility to detect the movements of a person prior to entering the clinic. This data is crucial to connect with all individuals and facilities in a timely manner. Although privacy remains a large concern, there have been advancements in the conversation to use specific Apps to monitor the movement of the larger population during the state of emergency, which would enable contract tracers to quickly see on a visual map, the areas most frequented by patients who have tested positive for COVID-19. This would enable warnings to be given to the community prior to contagion spiraling out of control. Once the information is collected, heat maps could be produced of any campus or indoor facility to gather insight for how people are navigating around a building and what measures can be taken to increase their safety. 
Mapping the Inside of Facilities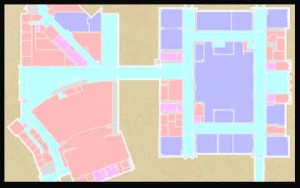 For hospitals that are in need of granular information at a floor level, it is possible to create custom maps using an existing floor plan. Once the maps are generated, a backed database can be used to power the project and display information on what is occurring at the hospital floor at any given moment. This can include the movement of individuals within the facility displayed through a heat map, showing the gathering of people and patients that need to be attended to. Particularly insightful is the tracking of lifesaving equipment within a hospital, such as ventilators and emergency beds, showing these objects on a dynamic map in order to relocate them as necessary. All information is stored in a database and can be replayed as necessary in order to improve the efficiency of the system. 
The admirable sacrifices made by hospital personnel during these trying times can be accredited with saving many thousands of lives. Technology can also be used to improve the efficiency of hospital networks, tracking life-saving equipment, and monitoring influxes of patients in a community. Only through real group efforts and collaboration can we hope to achieve a new sense of normalcy.
Share the post "Showing Hospital Resources and Data on Interactive US Maps"