For avid skiers and general outdoor aficionados, the 2021 winter season is far from typical. Aside from the usual factors that compose the planning of a ski trip, adventurers this season are also dealing with navigating capped ticket sales, reduced lift capacity, and limited lodging options. Larger nationwide policies that restrict cross-state travel also pose barriers to making long-term plans. For passionate skiers, these hardships are still worth the exhilaration of spending a day whizzing down the slopes and enjoying beautiful winter landscapes. However, as with other aspects of our modern society, technology can play a role in ameliorating some portion of this uncertainty. Most modern mountain resorts have infrastructure presently implemented to enable the pre-purchase of tickets through the website and access to the chairlifts via rechargeable passes. Using real-time data on the movement of skiers, provided by this existing technology, and integrating it with a dynamic trail map can offer solutions to view statistics efficiently from any handheld device. Not only is this useful to visitors, but it also helps with planning for resort administrators. 
In the following article, we will look at.
Defining Trails and Custom Content on Dynamic Trail Maps

Interior Mapping of Lodges and Accommodations
Custom Ski Maps for Visitors and Administrators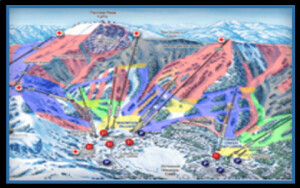 We have all seen the artistically crafted static trail maps commonplace on most resorts. These displays of beauty effectively show the layout of a resort while still displaying the attraction of snow top trees and mountain winter landscapes. At jQueryMaps we have worked with a prominent resort to create a dynamic version of the same static map, made accessible on the website and designed to be used both when on the slopes or when planning a trip. This product was created to display overlays on all the trails, defining the category of difficulty as well as the current status, whether a trail was opened or closed for skiing. Any trails can then be selected to open up additional details presented within a pop-up box. This information includes data on the most recent snowfall, whether the trail has snowmaking, and if it has been groomed in the last 24 hours. 
Many of the informational pop-up boxes can also include a description and interactive content such as uploaded pictures or videos. Throughout the resort, icons can also be placed on the dynamic trail maps to show identifying locations with additional interactive content. These can vary from panoramic pictures to real-time video streams displaying the current conditions of the trails and the congestion of skiers in a particular area. Users can use all of this information or apply an integrated system of filters to isolate only specific categories of data to display on the map. Any view can then be easily exported as a PDF for quick access on a mobile device while skiing. This comes into play if visitors prefer to ski only groomed terrain and would like to produce a custom map identifying only these types of trails. Alternatively, if adventurous skiers want to find areas with moguls or train parks, these can also be quickly identified and produced as a custom PDF export quickly available within your device.
Interior Maps and Dynamic Content within a Resort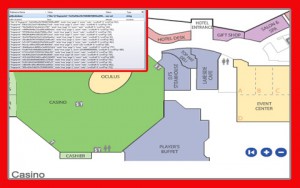 Beyond the interactive features of a dynamic trail map, custom projects can also be expanded to show the interior space of lodges, including all features of a resort. While travelers continue to balance family vacations with public safety restrictions, real-time maps can play an important role in promoting safety. The conglomeration of visitors to any specific indoor building can be monitored using the same technology employed by lift scans that give access to the top of the mountain. Either carousel scanners or resort personnel can scan visitors as they enter and exit a building, storing this information anonymously and displaying aggregate values on a dynamic trail map.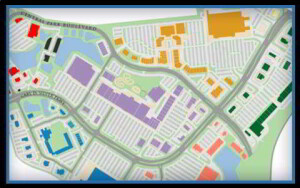 The interior spaces of a lodge would previously be added to the project showing useful information such as the location of cafes, restrooms, shops, or other amenities within a complex. Visitors can be presented with this information as an overlay to any interior map, quickly color-coding spaces based on a ratio of the room size to the current number of occupants. The values would be projected with a color categorization displaying each room in a green, yellow, or red color based on the capacity limits. As visitors leave the area through the exits, values automatically refresh so information is accurately reflected on the map. This ability to show real-time statistics on occupancy can provide helpful insight to plan a lunch break or coffee break while on the slopes. Furthermore, all of the values are stored on a server and can be utilized by administrators to generate historical heat maps of the circulation of people throughout the slopes, thereby detecting patterns and identifying opportunities for improvement. 

Existing technology used by ski resorts can be expanded to work with dynamic trail maps and interactive interior maps to increase safety during this season and also improve the experience for future visitors. Contact us for more information.