Using a responsive map of countries as an interactive component of your website is a great first consideration when enhancing your user interface. Maps provide aesthetically pleasing and practical solutions for company managers and general visitors seeking information about travel routes, departure locations, schedules or any other data components associated with traveling. Maps can also include any necessary levels of detail, including World maps divided by Continents and Countries down to street level detail in specific cities using OpenStreetMap or Google Maps. The software is robust, highly flexible and designed so that it can be self-managed from your company servers. 
In this article we will look at the following topics:
Tracking Detailed Travel Information with Custom Map Filters and Tables  

Using Interactive Maps to Display Routes and Route Information

Integrating Street Level Mapping within any Travel Project
Adopting Custom Search Tools and Results Tables for a Map of Countries in Europe
A common request received with Travel related projects is to improve the visibility and access to incidents associated with travel. Incidents can mean accidents, delays, possible strikes on real-time events that affect the standard flow of travel. The base map can be a map of countries in the World, however, this view can be configured to focus on a continent by default or focus on a region of the World according to a user's location. The system is highly flexible and can be configured to work to a business's specific needs. The initial map is inactive, allowing users to make use of the detailed filters built into the system to call a specific dataset for analysis. The first option is to set a date range with a start date and end date to update the data.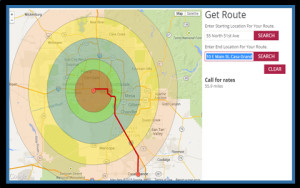 The map populates highlighting Countries with incidents that fall within the selected time range. Individual incidents are then plotted on the map as icons with several available categories. Clicking on any icon provides a list of the passengers affected and details about their itinerary. The main highlight of the project is the results table below the map that features an accordion system by which initial entries can be expanded for full details. This same functionality can be applied to content within pop-up boxes to avoid cluttering the map, such as is the case with the following map of countries and continents (see California).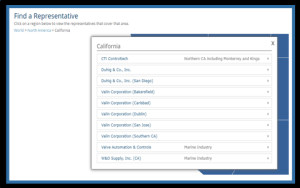 On any view of the travel site, the content can be exported or printed. If needed the project can also work with an automatic email messaging system to send information to affected passengers from within the same pop-up box. The ultimate goal is to meet a company's needs by producing a custom software that works well for their internal business structure.
Interactive Lines and Routes on US States Map
The most popular travel mapping solution provided includes the ability to display routes between a departure city and destination city represented by curved lines. Lines mark a connection between the locations and can contain extensive information displayed within pop-up boxes when selected. The following interactive North America map displays routes for an airline company with headquarters in Denver, CO.  Selecting the line calls general information, however, projects can be configured so that these pop-up boxes are highly customized, including live flight tracking, estimated arrival times or airline contact information that service said route.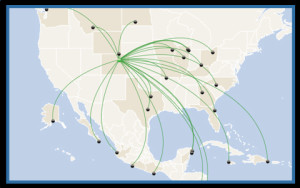 The important feature behind all dynamic HTML5 web maps is that the data displayed on the map is driven by a backend database that can be the same database currently used by the website. This direct interaction with the database via XML files provides the structure so that updates are reflected instantly within the map, without additional complications. Your current data structure or CMS will be compatible to feed the information for your next travel project. The interactive lines can be used within specific regional maps, US Maps or map of Countries for the World. Any view and level can be customized to include signature company colors, logos and background branding. 
Connecting Street Detail with Area-Based Mapping Software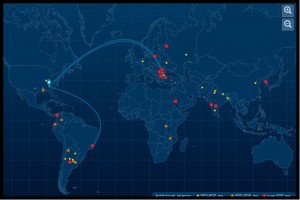 Area-based mapping tools provide the easiest and most intuitive method of selecting and navigating to specific regions of the World or States or Counties within a specific Country. Rather than using a toolbar to zoom-in and requiring users to then pan the map to center their location, area-based tools provide a simple on-click method of navigating to sub-levels on the map. It also provides a clean and customizable look that can carry any company's particular colors and logos. See a custom layout for a World map of countries.
Custom maps with direct connectivity to a backend database or XML files provide a practical solution for companies in any industry, including projects linked to travel and tourism. We welcome your feedback and would like to learn more about your mapping needs. Feel free to contact us to set up a quick phone consultation. 
Share the post "Take off with a Map of Countries for the Travel Industry"